On this blog we are presenting Anna Wyszkowska, our European Sales Advisor and one of the most recent additions to the KnitMesh Sales Team.
How long have you worked at KnitMesh Technologies?
I joined the team in February 2018, starting as Customer Service Advisor then progressing to European Sales Advisor working mainly with our Key Automotive Customers.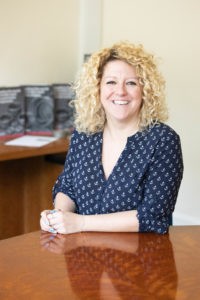 What is your background?
Having done my apprenticeship as an "Industriekauffrau" (broadly translated in English as Industrial Clerk) in Germany, I moved to Ireland where I worked in various industry sectors including the Food Industry and Banking. In 2014, I moved to Wales and held roles in the Aerospace and Packaging sectors.
What territories do you cover?
I cover all European territories for our Automotive customers and more recently I have started to liaise with Alexander Associates, our recently appointed sales agents in the USA.
What are your plans for the future?
I love a challenge so whilst COVID-19 has created more than would be desired, it has also revealed some interesting opportunities for the business. We have supplied products for use in life sustaining oxygen generators and also in the pharmaceutical sector and the manufacture of sanitiser products.  My main aim remains to ensure that our high quality knitted mesh and its unique properties are supplied in every industry sector. I strive to continuously build strong relationships with our growing network of international customers and to work closely with them in the development of innovative new components. Of course, I want to enhance the KnitMesh brand on a global scale whilst remembering my motto which is "the sky is not the limit".
And finally, what is your typical day?
I enjoy working with people and believe in strong Customer Relationships as the key for business growth. Waking up early I ensure my little pirate dog Leah is fed and watered. She's a Jack Russell – 16.5 years young, still going strong! And of course she gets a big cuddle before I set off for work. I spend my working day making sure my customers are well looked after, whilst ensuring all projects are updated and that we are meeting our exceptionally high standards. I enjoy working in KnitMesh – every one of my colleagues is an asset to the business and we are a great team who work very closely together. There is a great atmosphere in the office (especially when I bring in some of my homemade food!). In my free time, I enjoy cooking and feeding people, and, when the weather allows, I go out on my Suzi – my beloved motorbike!