KnitMesh Technologies® non-metallic non-mesh products incorporate polymeric and textile materials into knitted mesh structures.
Types of product in this range include: glass-fibre encapsulation for mesh wraps and seals, elastomer pipes and tubes with mesh knit over it, and mesh products incorporating and attached to sealing materials. Some exaples are shown below.
Design Solutions
KnitMesh is not limited to off-the-shelf design solutions, and works with customers to create bespoke engineering solutions to a wide range of problems. By utilising the latest manufacturing techniques, KnitMesh are able to provide customer solutions which design cost out and value in. Some examples of non-metallic non-mesh products are shown below.
Fibre-Glass Seals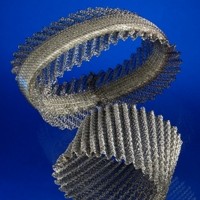 Crimped metal anti-vibration support with and without glass-fibre seal.
Elastomer Tubing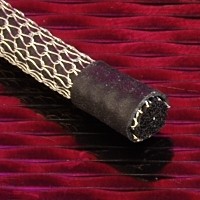 Elastomer tube with a silver-plated copper mesh knit over it.
Fluid-Seal Gasket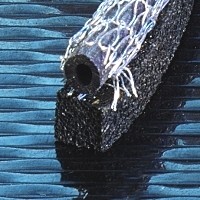 Silicone tube with metal mesh knitted over it, attached to neoprene sponge.
Contact Us
If you would like to know more about KnitMesh's range of non-mesh products, or you have a design requirement that you think KnitMesh may be able to assist with, please contact the KnitMesh customer services team for more information.